Health Savings Accounts and Reimbursement Arrangements Encourage Employer Group Health Coverage
This is the first in a two-part series.
Account-based health plans--health insurance plans paired with health savings accounts (HSA) and health reimbursement arrangements (HRA)--are the fastest growing product in the market for employer-based group health plans. There is no disputing the fact that the number of employers offering group health plan coverage to their employees has declined as the cost of providing coverage has increased. It is my opinion that account-based health plans have helped arrest this decline.
Account-based health plans are approximately 10 years old, but have grown substantially over the past decade. Estimates vary, but account-based health plans now account for about 15 percent of all employer-sponsored health coverage. The Employee Benefit Research Institute said approximately 21 million Americans were covered by an account-based health plan in 2011, up 40 percent from 2010. More recently, the American Association of Preferred Provider Organizations estimated that 33 million people were enrolled in account-based plans in 2011. The number of Americans covered by HSA-based plans is approximately 13.5 million, as recently reported by America's Health Insurance Plans. There is no reliable survey of HRA-based plans.
The consulting firm Towers Watson states that nearly 60 percent of employers have implemented account-based health plans, and that number will increase to 70 percent by 2013. Twelve percent of employers now offer "total replacement" plans—where account-based health plans are the only option offered to employees—up from 7.6 percent in 2010. Enrollment by employees in account-based plans has nearly doubled in the past two years, from 15 percent in 2010 to 27 percent in 2012.
What is fueling this growth? Certainly one of the reasons is the dramatic increase in health insurance costs over the past decade. According to the 2011 Kaiser Family Foundation/Health Research & Educational Trust annual survey of employer benefits, the cost of family coverage more than doubled over the previous 10 years (see exhibit below). Other surveys suggest that costs may be even higher. For example, Milliman Inc. recently reported that health care costs for the typical family of four are projected to reach $20,728 through an employer-sponsored preferred provider organization (PPO) plan this year, despite the fact that the 6.9 percent increase over 2011 is actually the lowest rate of increase Milliman has seen in the 10 years of this study.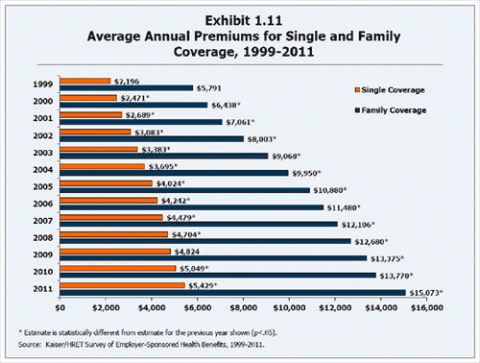 Contrast that to the experience of employers who have account-based health plans. According to Towers Watson and the National Business Group on Health, companies that successfully move their employees into account-based health plans can achieve significant savings on their health benefit costs. For example, companies with at least half of their workers enrolled in an account-based health plan report that their per-employee costs are over $1,000 lower than companies without an account-based health plan. This is hard evidence for "bending the cost curve" that is so elusive for the rest of our nation's health care system.
Similarly, Aetna reported late last year that employers who switched to account-based health plans as their only plan option had saved $21.8 million per 10,000 members over the past five years. Aetna found that employers who offered an account-based health plan along with other traditional plan options (e.g., PPO, HMO) also had realized savings, but not as significant—only $8 million per 10,000 members over five years.
Finally, Cigna published a study earlier this year concluding that employers can save an average of $9,700 per employee over five years by switching to account-based health plans. Given these results, Cigna believes that if the share of Americans enrolled in account-based health plans rose to 50 percent and achieved the same results as this study, the U.S. could save $350 billion over 10 years and the level of patient care would improve.
This potential for reducing health care spending was recently confirmed when researchers at the RAND Corporation published in the journal Health Affairs the results of their analysis of the potential impact of account-based health plans on the American health care system. The RAND analysis suggests that if account-based health plans grow to represent half of all employer-sponsored insurance in the United States, health care spending could drop by $57 billion annually—about 4 percent of all health care spending among non-elderly Americans. The study acknowledges that HSAs are far more cost-effective, and estimates that if all of these people were in HSA plans, the annual savings would be as high as $73.6 billion. I believe that is a conservative estimate.
Why isn't every company offering account-based health plans? They may have to if the so-called "Cadillac plan" tax in the Patient Protection and Affordable Care Act goes into effect in 2018. I believe that companies have few other options as effective as account-based health plans to keep their costs below the thresholds where the excise tax will affect them ($10,200 for single coverage; $27,500 for family coverage). Recent surveys suggest that private employers are taking action and moving to account-based health plans, but public and non-profit employers appear to be lagging.
The one exception is the State of Indiana. Indiana has been offering account-based health plans to state employees since 2006. In 2012, its seventh year for account-based plans, 90 percent of Indiana state workers with its health insurance coverage participate in an account-based health plan. The state says these plans have already reduced the state's overall health benefit costs by more than 10 percent, and only 2 percent have switched back to a traditional plan.
In the 22 other states where enrollment in account-based health plans is voluntary, only 2 percent of government employees have signed up. Last year, Arizona, Louisiana, Minnesota, Utah and West Virginia joined 18 other states that already offer an account-based health plan. If Indiana's program continues to hold down costs while satisfying state employees, more states can be expected to try account-based health plans.
No other type of health plan has showed sustained success at "bending the cost curve" as account-based health plans. While not perfect, they are the best tool employers have available today. Supplementing the account-based plan with a strong wellness program will set employers on the right track for the future, regardless of the direction health care financing turns.