Local, State and the Federal Government Must Do More to Prevent Injuries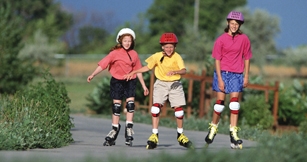 It's common sense, right? If you want to avoid injuries, you wear seatbelts and helmets, use proper child safety seats and undertake other means that you know prevent injuries. While individuals are responsible for taking steps to stay safe and protect themselves and their families from injuries, experts have found that public education, laws and policies can also play a major role in helping keep Americans healthy and safe.
However, according to a new Trust for America's Health report, The Facts Hurt: A State-By-State Injury Prevention Policy Report, many states and the federal government do not have policies or laws that we know can protect citizens from injury.
The report found that many injury prevention activities have been scientifically shown to reduce harm and deaths. For example:
Seat belts saved an estimated 69,000 lives from 2006 to 2010;
Motorcycle helmets saved an estimated 8,000 lives from 2005 to 2009;
Child safety seats saved around 1,800 lives from 2005 to 2009; and
School-based programs to prevent violence have cut violent behavior among high school students by 29 percent.
Injuries are serious business and cost the country billions of dollars. They are the leading cause of death for Americans under 44 and the third leading cause of death overall. Nationally, 57.9 per 100,000 Americans die in injury-related fatalities every year and injuries generate $406 billion in lifetime costs for medical care and lost productivity annually.
It is clear there are proven, evidence-based strategies that can spare millions of Americans from injuries each year and make it easier for Americans to keep themselves and their families safer. Funding, however, for injury prevention for states from the U.S. Centers for Disease Control and Prevention averages only $0.28 per American - and has dropped 24 percent from fiscal years 2006 to 2011. Only 31 states have full-time injury and violence prevention directors, which limit injury prevention efforts.
In addition to scarce resources and support, at the state level, injury prevention policies are lacking:
29 states do not require bicycle helmets for all children;
17 states do not require that children ride in a car seat or booster seat to at least the age of eight;
31 states do not require helmets for all motorcycle riders;
34 states and Washington, D.C. do not require mandatory ignition interlocks for convicted drunk drivers;
18 states do not have primary seat belt laws;
44 states scored a "B" or lower on a teen dating violence law review by the Break the Cycle organization; and
13 states do not have strong youth sport concussion safety laws.
For the report, TFAH and the Robert Wood Johnson Foundation worked with a committee of top injury prevention experts from the Safe States Alliance and the Society for the Advancement of Violence and Injury Research to create the indicators to develop the report card and provide recommendations for evidence-based strategies to reduce injuries in the United States.
The nation has moved forward in helping people avoid injuries, as noted by the fact that injury prevention is one of the seven priorities in the National Prevention Strategy: America's Plan for Better Health and Wellness, released in 2011. The NPS brings 17 federal agencies together for the first time to move the nation from a focus on sickness and injury to prevention and wellness.
However, the country can do much more.
Increased Resources and Workforce Are Needed for Injury Prevention
Currently, public health departments and researchers do not have the support they need to fully implement many of these strategies. Instead of increasing the investment, in the past several years, funding for public health has dramatically decreased. Injury prevention efforts require dedicated resources and staff in place to be effective.
Increased Investment Is Needed for Injury Prevention Research
Research has generated strong evidence for a number of ways to reduce a wide range of injuries. This evidence is generated from surveillance data on injury problems, studies of the risk and protective factors, the development and evaluation of innovative solutions, and the widespread dissemination of effective programs and policies.
However, limited resources mean limits on the ability to collect, analyze and evaluate data to move the field forward. For instance, more information is needed to evaluate whether bans of handheld devices and texting help reduce accidents or if they are encouraging more distraction for drivers to try to hide devices while they continue to engage in these practices. And, when there is a proven, effective policy, what are the most effective methods to implement and disseminate it to the broader population? For instance, graduated driver's license policies reduce teen deaths and injuries but more research can help better understand what the key ingredients are that make them effective and encourage more states to adopt them. Answering these and many other injury prevention questions are essential to more fully protecting the public in the future. In addition, improved data collection through widespread and standardized use of external cause-of injury coding is essential to being able to analyze injuries in the United States and the effectiveness of strategies to prevent them.